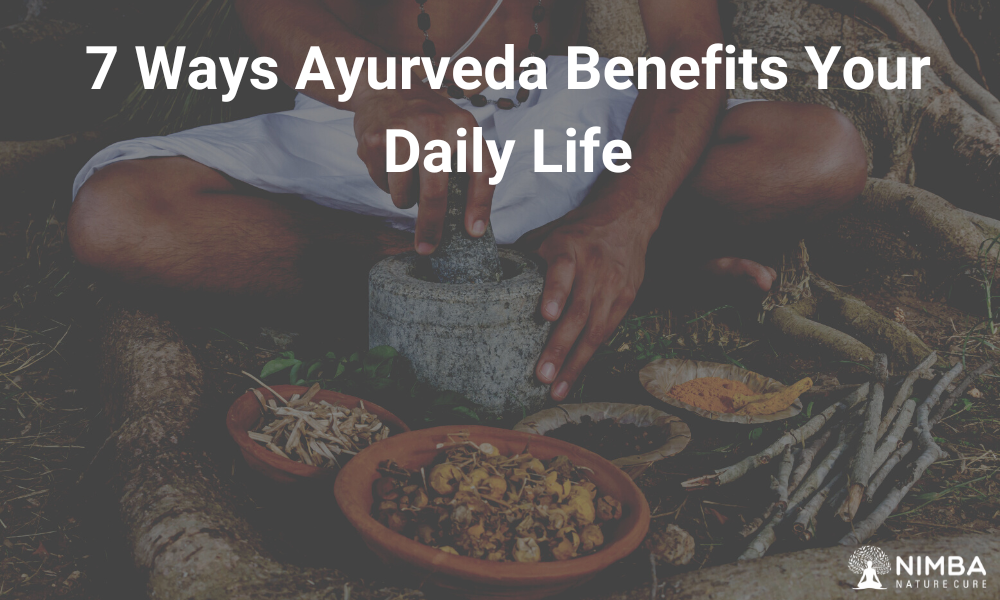 7 Ways Ayurveda Benefits Your Daily Life
By: Nimba - November 10, 2022
Ayurveda is a science of life, which is more than an ancient science of healing ailments. This ancient science has been around for more than 5000 years and helps people recover and attain their maximum potential level. Furthermore, Ayurveda is also known as the sister science to yoga and is holistic in nature. The major focus of Ayurveda is to help you achieve a proper balance between your emotional and physical life. Ayurveda also believes that what we eat each day affects our health and well-being and that we can be full of energy if we put healthy and necessary food and drinks into our bodies. This process is known as the Sattvic Approach which is a diet based on foods that are recommended by Ayurveda. This diet is designed to be holistic in nature as it nurtures your body, mind, and soul, which supports your good medicine and yoga practice. There are a number of Ayurveda and wellness centers in India where you can visit and learn to practice Ayurveda for better health and well-being.
Read also: Heal Yourself At Nimba Nature Cure Village By Holistic Therapies
Here Are 7 Ways Practicing Ayurveda Benefits In Your Daily Life:
It Promotes Self-Love
Ayurveda helps you find love in yourself rather than comparing yourself to others. Moreover, Ayurveda helps you to understand that you are truly unique and can be happy and healthier in the most tailored way possible. This also encourages you to discover your own needs and desires and indirectly reflects on your life as well as your healing process. As per Ayurveda, every individual is a unique combination of one or more than one dosha, or force, that is called Vata, Pitta, and Kapha. This force describes that each individual is unique and they must stop comparing themselves with others, as this will help them achieve their goals and maximum potential. Nimba Nature Cure Village is an Ayurveda wellness centre in India located in Gujarat. You can visit here to get the best naturopathy therapies and treatments.
Offers Nurturing Approach Of Being Healthy
It has been identified that practicing Ayurveda helps in achieving good health and well-being on both mental and physical levels. This approach focuses on individuals rather than being focused on diseases, which helps in eliminating sickness and any disease from your body from its roots. All you need to understand about Ayurveda is that being healthy is your natural state. Hence, if you and your environment are in balance, then you are healthy; if the environment and your daily food habits are not in balance, then you are unhealthy. Ayurveda promotes the use of herbs such as turmeric, tulsi, cinnamon, and so on which have anti-inflammatory properties. This enhances your health and well-being and protects you from disease as well.
Promotes Understanding Of Your Place In Life
Ayurveda says that we are a part of nature, and nature has five elements, i.e., air, water, space, fire, and earth. As per Ayurveda, those elements also play a big role in your life. For instance, fire manifests in your mind and body as digestion, anger, and inflammation. The earth is connected to your bones and your stubbornness towards something. Furthermore, the earth directly shows up in your body and mind as high energy and forgetfulness. Once you recognize what element shows up most prominently for you, you can find out the exact dosha and can work accordingly to achieve optimum balance. Looking for the best naturopathy and Ayurveda wellness centers in India? Call us today to book your space.
Read also: All You Need To Know About Naturopathy
Reduce Stress And Anxiety
As per research and many studies, it has been identified that poor physical health directly affects our mental wealth. Therefore, you need to be physically and mentally healthy enough to live a good life without feeling unwell and tense. Ayurveda helps in reducing anxiety and stress in one's life because if your digestive system is not good and strong enough, it will make you tired and will later reflect negative feelings. Ayurveda has a lot of medicine and treatments that help people reduce stress and anxiety. These involve yoga, massage, therapies, fasting, and other dietary regulations that are specifically suggested as per your body's doshas constitutions. Talk to our yoga and meditation therapist specialists today to learn your body's doshas constitutions.
Read also: इन्टरमिटन्ट फास्टिंग और स्वास्थ्य
Remove Toxins From Body
Ayurveda says that there are various kinds of toxins in our bodies that need to be removed, and ama is the most common toxin. Ama is a waste buildup in our bodies that, if not removed on time, can cause illnesses and harm to our bodies. There are a number of Ayurveda and wellness retreats in India that offer treatments such as; Panchakarma therapy, Mud Therapy, acupuncture, Shirodhara Treatment, and so on. Nimba Nature Cure Village is one of them that offers the best Ayurveda and naturopathy services. All those Ayurvedic therapies help rejuvenate your body, soul, and mind to the core.
Weight Management
Although, weight loss is not a primary goal of Ayurveda, as it works on the overall body system and helps in living a good and healthy life. However, Ayurveda helps in reducing weight without actually affecting the mental, physical, and emotional well-being of the person. Ayurveda promotes weight management by having a properly balanced diet, yoga, meditation, stress reduction, enhanced digestion, detoxification, and so on.
Ayurveda also suggests that your diet must be sattvic and balanced so that your body can digest it properly. This is because, as soon as you start eating for your dosha, your digestion system strengthens. Furthermore; this also helps you feel lethargic and offers a high level of energy.
Improved Immunity And Balance
Ayurveda suggests you have a combination of a healthy diet that is packed with nutrients, herbs, and proteins that help in combating disorders. Ayurveda helps in strengthening the body's defense mechanisms and keeps the Agni strong as well. Also, when the digestive fire in our body is strong, the chances of building ama and any kind of toxin are less. It cleanses the system and strengthens immunity as well. Ayurveda is not a system but a lifestyle that you need to adopt to achieve proper balance and improve immunity.
Read also: 10 Foods That Can Boost Your Immunity
If you found the above content useful and are thinking of going for Ayurveda and naturopathy treatment services, then get in touch with Nimba Nature Cure Village. We offer complete Ayurveda and naturopathy treatment services. Simply give us a call at +91 81550 12274 and talk to our specialist to know more about packages and services.