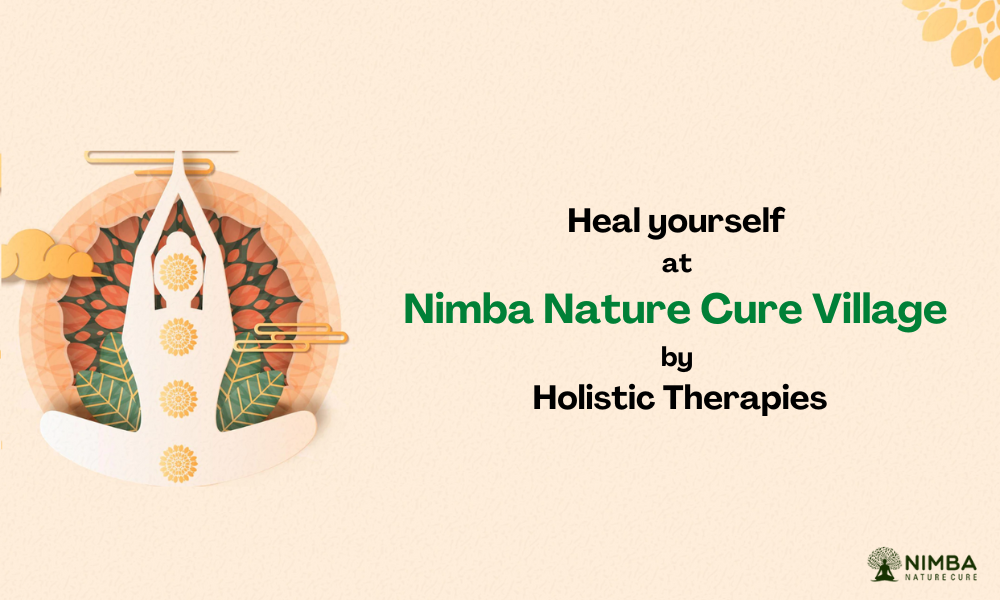 Heal yourself at Nimba Nature Cure Village by Holistic Therapies
By: Nimba - August 12, 2022
What is holistic healing?
Holistic healing is the combination of alternative therapy and traditional medicine. In holistic healing, both methods are mixed together to create a whole-body approach to healthcare. Holistic healing helps in treating your full body, soul, and mind as one piece to fix the unusual causes of diseases. Holistic therapies have also been proven beneficial in reducing stress, anxiety, and tiredness. This approach is gaining popularity as people are becoming more concerned about health and wellness. They are increasingly turning to naturopathy treatments and ayurvedic therapies to effectively heal their body, mind, and soul.
Also read: Explore Holistic Healing With Nature In This Monsoon
Health Benefits of Holistic Healing
Holistic healing combines natural healing with traditional medicine to heal the person's emotions, body, and mind. This helps in maintaining the proper balance of optimal health and wellness. This also encourages people to live a healthy lifestyle and to stay away from unusual illnesses and diseases. There are various wellness retreats in India that inspire people to stay in touch with the ground and Ayurveda. Yoga, Meditation retreat, Ayurveda treatments, natural therapies, and self-relaxing routines have also been proven beneficial to people's general health. At Nimba Nature Cure Village, you will get all the essential Ayurveda and natural therapy treatments under one roof. This strengthens your immune system and enhances your mental toughness.
Also Read: 8 Best Wellness Retreats In India To Heal And Re-discover Yourself
Physiological benefits
It reduces mental illness.
It reduces hypertension and anxiety
It improves emotional steadiness
Physical benefits
Reduces joint stiffness
Improved mobility
Improve sleep quality
Improves digestion
Promote healthy immune system
Improve skin radiance
Fatigue alleviation
Emotional or Spiritual benefits
Promote a sense of self-awareness
Reduce stress and tension
Holistic Healing Therapies Provided By Nimba Nature Cure
People suffer from different kinds of emotional and physical ailments, such as depression, high blood pressure, and anxiety. Holistic healing involves different kinds of therapies and treatments, such as naturopathy services, Ayurveda therapies, yoga & meditation, and many more that promote holistic well-being. Let's take a look at some of the holistic healing approaches offered by Nimba Nature Cure to its guests.

Reiki Therapy
Reiki therapy is based on the eastern belief that vital energy flows through your body. This therapy uses gentle touch and guides this energy to flow in a proper manner that promotes healing and relieves you from stress. This originated in Japan. It is a type of complementary treatment which is used to treat some specific conditions such as pain, anxiety, and depression. Nimba Nature Cure offers Reiki Treatment services and believes that it has the ability to self-heal and self-improve.
Benefits of Reiki Treatments
Improve body immune system
Foster tissue and bone healing after surgery and injury
Promote natural self-healing
Relieve pain and tension
Bring one on a meditative state
Visit Nimba Nature Cure to learn holistic healing and rejuvenate your soul, body and mind.

Hot Stone Massage
This is a type of curative and preventive massage therapy where smooth and water-heated flat stones are placed on specific areas of the body to trigger the pain. These stones are made up of basalt, which is a type of volcanic rock that remains hot. Massage therapists use different techniques to hold heated stones based on the condition, such as vibration, tapping, kneading, circular movements, and long strokes. Nimba Nature Cure has a team of massage specialists and therapists. Visit today to relieve yourself of stress, pain, and anxiety.
Benefits of Hot Stone Massage
Reduces stress and anxieties
Helps relieve muscle pain and tension
Promotes quality of sleep
Relieve symptoms of autoimmune diseases
Decrease cancer symptoms
Boost immunity
Also read: Naturopathy Ways To Heal Aching Muscles

Cupping Therapy
Have you noticed round red marks on somebody's back? These marks come from cupping therapy. Let's learn what cupping therapy is and how it works. Cupping therapy is a type of alternative therapy that involves placing cups on the back to create suction. This suction helps in improving the flow of energy within the body and promotes holistic healing. These days, cupping therapy is in demand and found as a treatment offered by many practitioners. Many people also believe that cupping therapy helps in balancing positive and negative aspects within the body. Restoring the balance between these two aspects of the body is helpful as it reduces pain and increases overall blood flow. This also relieves muscle tension, which improves blood circulation and promotes cell repair. Nimba Nature Cure offers cupping therapy to its guests to achieve blissful harmony between the body, mind, and soul.
Benefits of cupping therapy
Removes toxins
Improve blood flow
Promote healthier skin
Relieves a range of ailments
Boost cellular immunity
Reducing inflammation
Get in touch with Nimba Nature Cure to get the best naturopathy and Ayurveda treatment therapies in India.
Also read: Naturopathy Treatment:The Holistic Solution For Complete Well Being

Acupuncture Therapy
Acupuncture therapy involves the insertion of small needles into your skin at strategic points of your body. This is one of the most famous traditional Chinese alternative medicines to treat pain, anxiety, and stress. This restores the energy flow of the body and strengthens the overall healthy pattern within the body. Hence, all therapies have both negative and positive sides. Hence, you must seek medical advice before going for any kind of therapy. This therapy can be used to treat different kinds of ailments, from body aches to serious ailments. Nimba Nature Cure has a team of specialists that have expertise in such traditional methods. This therapy can help with a variety of ailments, including nervous conditions, allergies, respiratory conditions, allergies, gynecological problems, and more. Visit Nimba Nature Cure to avail the best holistic healing treatments and therapies under one roof.
Benefits of Acupuncture therapy
Reduces stress
Improve immune system
Relieve you from allergies
Beneficial in dental pain
Labor pain
Neck pain
Lower back pain
Menstrual cramps
Respiratory disorders, such as allergic rhinitis

Raga Therapy
The human mind is depressed most of the time because of several emotions in several situations of daily life. Hence, it becomes difficult for them to calm and relax their mind and body. There are various natural therapies and Ayurveda treatments to treat people's anxiety and stress in an effective manner. Raga therapy is one of them that promotes self-healing and a sense of excitement. Raga therapy is a form of self-healing that uses musical notes to create an aura that leads to calming the mind. Nimba Nature Cure offers raga therapy in India by using powerful music to relieve its patients from stress, anxiety, depression, and pain. Nimba also assists in improving the quality of sleep through raga therapy along with enhancing the concentration and maintaining the blood pressure level.
Benefits of Raga Therapy
Reduces stress
Promote sense of self-healing
Improve concentration
Improve blood circulation
Relieve you from depression
Nimba Nature Cure is one of the most known naturopathy centers in India offering a range of natural and Ayurveda treatments to its guests. We provide a kind of holistic healing vacation to our guests so that they can find the balance between personal and professional lives while enhancing overall health. Visit our website to know more about our services or you can call at +91 81550 12274.