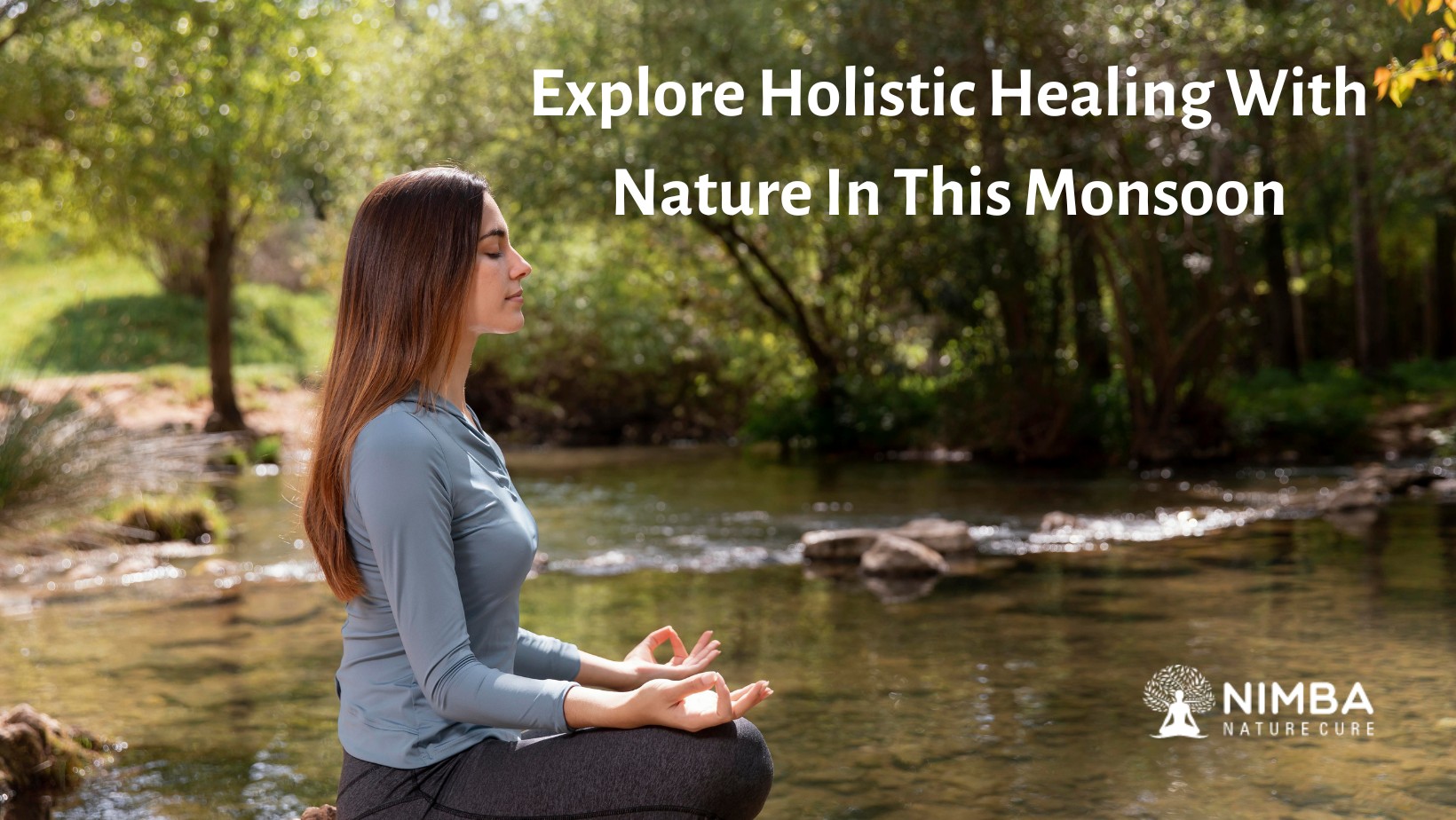 Explore Holistic Healing With Nature In This Monsoon
By: Nimba - July 12, 2022
The monsoon is one of the best times to experience the real beauty of nature as it enables beauty, ecstasy, peace, beautiful scenery, lush green forest and pleasure. Especially, when you are traveling or vacationing. However, many people don't find traveling convenient during the monsoon as it has various risks. Rain showers are a way for God to detox their Ozone layer and space, as well as a way for the earth to cool down from the extreme heat of summer. This is the best time to refresh all elements of your life. There is an ultimate connection between positivity and rain, as it allows you to explore the beauty of nature and cools down inner obstacles. The monsoon is also good for holistic healing and stress management for people as it holds the ability to cherish a normal living day with love, excitement, and happiness. Holistic healing has numerous advantages, including pain relief, improved mobility, better sleep, increased energy level, and so on. Learn holistic healing with nature at Nimba this monsoon and also learn how shirodhara treatment helps effectively in stress management.
Tips For Holistic Healing With Nature This Monsoon
Detoxify your negative emotions: The Monsoon Cleanses the earth and makes everything clean and fresh. Hence, known as the ideal season to detox yourself and filter the negative thoughts and elements that distract you. Rain gives a sense of relief, but this is the season when the body goes into Vata Dosha Imbalance. The changing temperatures lead to routine diseases like colds, coughs, flu, malaria, etc. Holistic healing provides protection from such routine diseases as it reduces mental fatigue, sharpens the mind, and increases overall concentration. Also, the best medicine to detox yourself is a shower of rain, as it represents a lovely blend of emotions. Detoxing yourself doesn't only make you energetic but also improves your physical and mental health.
Stress management with Shirodhara treatment: Shirodhara treatment is a non-invasive technique of Ayurveda that helps in reducing anxiety, stress, migraine, insomnia, and hypertension. According to Ayurveda, the monsoon season is the best time to perform natural therapies as the body pores up and becomes more responsive to healing. Nimba helps in holistic healing practices by using several natural ways like complementary therapies, alternative medicine, natural healthcare, integrative medicine, and so on. Ayurveda therapy such as; shirodhara treatment helps the body fight against seasonal threats such as migraines and anxiety. This also brings a sense of purification, which is the primary reason why natural therapies are used to treat almost every disease.
The secret of the northeast: According to ancient Vastu, the northeast serves you with finance, abundance, and good health as this section represents the water element. This is the reason why old people say the windows of the home should be in the northeast direction of the house. It symbolizes success in business. One always keeps the north and east sections of their home open during the monsoon as they believe it brings positive energy and good luck inside the home. This is also a type of holistic healing practice as it blocks the hope of negativity that can adversely impact one's personal health.
Ancestral healing: Ancestral healing refers to the process of releasing and revealing traumas and inherited wounds that have been marked by our ancestors. Rain brings a sense of happiness and blessings. Hence, this is the best time to get connected with spirituality and helps in the healing of ancestral aspects. In this case, one can also go for the Shirodhara treatment as it helps in stress management and calms down the entire nervous system. Nimba offers several types of natural therapy treatments, and Shirodhara is one of them. We believe in identifying the root of the current problem, whether it is temporary or ancestral. Also, ancestral holistic healing processes suggest bathing with 12 leaves of Tulsi as it helps in healing by enabling positive energy patterns. It also relieves you from family curses and emotional wounds.
Best time to interact: In today's era, people are very busy in their life and they have minimal interaction with others' life that leads them to anxiety. Monsoon brings happiness and people choose to connect with their loved ones for having maximum universal support. One must share their feelings and vulnerable emotions with their loved ones and must not worry about the final outcomes. Nimba is a holistic healing center that helps you to communicate with others and also connects you with the real beauty of nature and the environment. Getting connected with nature can be beneficial for you if you are looking for peace and inner healing.
Nimba is one of the most famous and known holistic healing centers in the country which is known as Nimba Nature Cure in Gujrat. Nimba has taken the science of Ayurveda seriously just to help its patients with all aspects such as; mentally, psychologically, emotionally, and physically.
FAQ's
What is Holistic Healing?
Holistic healing is the type of healing process that considers the whole body parts of human beings such as; the mind, body, emotions, optimal health and wellness. This process helps in managing mental and social sickness along with developing healthy social relationships. Holistic healing medicine is love and support and this is considered the most powerful healer.