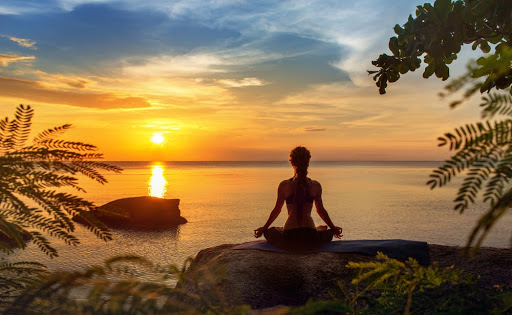 What Are The Benefits Of Yoga Retreat?
By: Nimba - June 16, 2021
In the fast-paced lives of the 21st century, we are held hostage by our daily routine, getting up in the morning, rushing to work, spending eight to nine hours working and coming back home. Later, we have no energy for productive work, and this endless cycle goes on, and we feel stuck in a rut. 
Since the onset of the Covid-19 pandemic, this monotony of life has shrunk further, trapping us in our homes, erasing the distinction between work and home since now they are the same. It is hard not to get frustrated and wish for a change.
Psychological side-effects of the new normal lifestyle- 
Restriction of Cognitive functioning

Reduced concentration and attention

Addiction

Depression

Lifestyle disorders
Yoga, The Rescue 
Yoga Retreat is the solution and a gateway from this endless cycle. It will give you the perfect environment to relax and rejuvenate with the array of holistic means like yoga and naturopathy, which will enable you to rediscover the beauty of life as it is. 
A yoga retreat is a well-rounded holistic experience for people to achieve transformational healing through routines that have been tried, tested and proven successful. It is a destination where one gets to be near nature, interact with like-minded people and return to a healthier lifestyle with a fresh mindset.
Benefits of a Yoga retreat–
Experience a positive transformation

– By providing the necessary changes, it gives a positive perspective to life.
Adoption of a healthier lifestyle

– The peaceful environment at the

Yoga retreat

will enable you to dive deeper into the healing ways of Yoga, Ayurveda and naturopathy, and help you forget the mindless distractions of life.
Escape into a new refreshing location

– When one arrives at the lush and green facilities of

Nimba nature cure village

, the surroundings relax and energize your body and provide you with an escape to a new world.
A break from everything digital

– All of us are somewhere addicted to our gadgets and the digital world. A

Yoga retreat

will help you detox from all digital addictions with several holistic activities like meditation, self-reflection, relaxation therapy, sauna, acupuncture and many more at Nimba nature cure village. Also, help you to disconnect from the artificial world and connect to the natural world.

Healthy yet tasty diet

– At the

Yoga retreat

facility, the meal plans for the guests are customized, keeping the taste and nourishment factor in mind. Time at Nimba is an opportunity to sit together and interact with people and enjoy their company with healthy food.
Get addicted to Yoga-

At the retreat, you will fall in love with ways of yoga as you experience the benefits first hand. So, when you return to your regular life, you will want to practice yoga every day.
Go back with a positive experience

– The experience and knowledge gained at a yoga retreat give you the tools and skills to continue a healthy yogic lifestyle for a lifetime (if you want to). A

Yoga retreat

is the starting pathway to long-term holistic health and wellness.
Nimba Nature Cure is a Naturopathy, Yoga and wellness retreat that is considered to be one of the best meditation retreats we have in India. It is situated in Gujarat. The place offers a unique opportunity for people to ensure wholesome wellness and improve mental health.