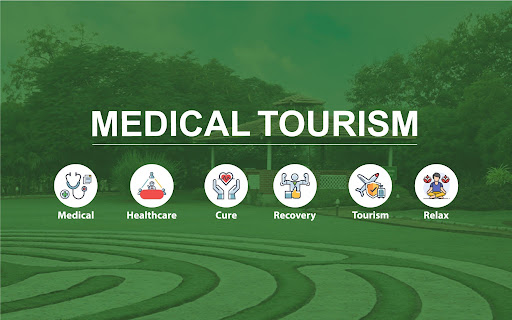 Medical Tourism in India
By: Nimba - September 24, 2021
A nation of great topographical diversity, extensive historical significance, and abundant reserves of culture and history, as well as one of the most notable contributors to the Indian economy is the expanding medical tourism sector.
Medical Tourism, also known as Health Tourism or Medical Travel, is simply the act of travelling from one location to another, or from one country to another, in pursuit of high-quality medical care.
India, as a nation with a wide range of geographical features, a historical heritage, and an abundance of culture and traditions have diverse roles in the economy of India but medical tourism is one of the most significant contributors to the country's economy. 
WHY CHOOSE INDIA?
Medical tourism in India is a growing trend that is well through the Asia-Pacific region. India is one of Asia's top three medical tourism destinations.
In this country, which has become a popular destination for health tourism, most complicated surgeries and treatments can be performed at an affordable price while delivering the best care and concern for the patients.
 Other medical tourism destinations across the world cannot match India's ability to integrate medical therapy with other kinds of healing – such as Ayurveda, Naturopathy, Yoga & Meditation, Homeopathy, and the Wellness sector in India. 
Medical tourism in India is projected to grow as consumers become more aware of alternative treatment with better amenities that are expected to boost the number of tourists to the nation. The most popular medical tourism destinations in India are Chennai, Gujarat, Mumbai, and Delhi.
WHY CHOOSE Gujarat?
Gujarat is considered a medical tourism hotspot in India due to its abundance of large and well-equipped hospitals, health care centres, and attractive tourist destinations, among other factors.
Low cost, high quality of care, outstanding service, minimal waiting time and recuperation opportunities are some of the reasons why Gujarat is a popular destination for medical treatments in India.
There is a huge spectrum of cost-effective holistic and high-tech medical treatments offered by the state in nearly every hospital and retreat centres including sub-district and district as well as private sector.
There are a number of patients from other countries who come to the city to receive the best medical care and then return to their own country when they have recovered.
Tourists from all over the globe come here to experience the traditional therapies, which include Yoga and meditation, and as part of traditional therapeutic techniques, Ayurvedic and Homeopathic treatments are also accessible to patients here.
Patients going to Gujarat should not have any problems as the number of hospitals and retreat centres are expanding rapidly. Even the hospitals constructed here are equipped with all the fundamental as well as advanced amenities essential for the particular treatment.
Many more initiatives and concepts are in the works to improve medical procedures in the state, and to increase the medical tourism rate of Gujarat to a higher level in the next few years.
Nimba Nature Cure in Gujarat has unique and unmatched infrastructure across India and has earned the distinction of being the country's most actively sought destination for medical care. This property is nestled in the middle of nature and gives a 360 holistic healing. The centre has a variety of therapy rooms with various natural remedies. Nimba nature cure is a popular medical tourism retreat centre in India.