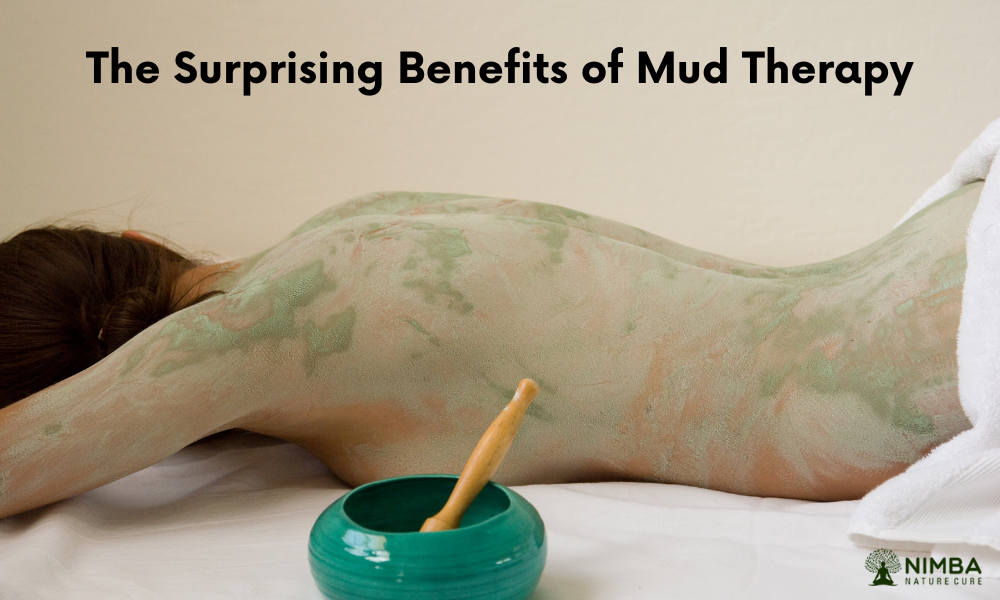 The Surprising Benefits of Mud Therapy
By: Nimba - August 17, 2022
Have You Ever Tried Mud Therapy?
Sometimes, nature is the best way to resolve any problem or disease as it holds strong power to fix the problem from the root. It doesn't carry any kind of side effects that medications often leave behind. The earth is rich in various kinds of nutrients and minerals that help to heal our bodies holistically and enable a better lifestyle. Mud therapy is one of those pleasing cures which you can use to solve different kinds of body and mental issues. Many wellness retreats in India are offering mud therapy services. Nimba Nature Cure Centre also offers Mud Therapy Sessions and provides the best chance for you to heal with the power of nature. Mud Therapy is gaining popularity slowly and helps you in many different ways, from getting rid of rashes to improving skin.
How does it work?
As per the belief of Ayurveda, our body is made up of five vital elements, i.e., ether, fire, air, earth, and water. Earth or mud clay holds the ability to heal the body from both the outside and inside and also correct any imbalance. It contains a lot of essential minerals that help in filtering toxins from the body. Since mud has so many health benefits, it has been introduced as a therapy to cure ailments and deal with chronic health problems. Visit Nimba Nature Cure Center to get relaxation sessions and to get rid of toxins and stress.

Health Benefits of Mud Therapy
Improves digestion
Mud has a strong power to dilute and absorb bad toxins from your body that can make you sick. Mud Therapy also helps in reducing weight as it detoxifies you naturally and speeds up the metabolism. A layer of mud around your stomach can help in improving the overall digestion system of your body. This is because when a mud pack is applied to your body, it reduces constipation, gas, and stomach aches. It regulates the muscular movements of your gastrointestinal tract and decreases intestinal heat.
Combat a fever and a headache
Fever and headaches can make it difficult for you to concentrate on your work. Mud therapy can help to reduce it. You can apply a mud pack around the abdomen area as it fights against excessive heat and cools down the body. Mud Therapy also helps to get relief from heat strokes and doesn't have any kind of side effects that medications usually have. Nimba Nature Cure is one of the well-known wellness retreats located in Ahmedabad, India. We offer the best Ayurveda and naturopathy therapies and Mud Therapy is one of those.
Good skin
The biggest benefit of using mud therapy is that it soothes and hydrates the skin naturally. As per Ayurvedic belief, mud therapy controls the bad effects of pita and clears the toxins away from your skin. At the same time, it detoxifies the skin from every kind of impurity, making your skin smoother and softer for a long period. This also protects and purifies your skin from pollution.
Good for Eyes
Mud therapy and mud packs give relaxation to your eyes. It is also helpful in curing eye diseases like a stye, glaucoma, hemorrhage, and conjunctions. Mud therapies are also good for those who sit in front of a laptop or computer for long hours. It is believed that walking barefoot in mud or applying mud packs enables good eye health and relaxation. If you are also looking to have a good relaxation session of mud therapy, then you must visit Nimba Nature Cure Centre.
Stress management
Mud Therapy has been prescribed by naturopaths and alternative Ayurveda experts to deal with some kinds of alternative issues such as stress and nervousness. Since it is cool, it helps in dealing with sleeping disorders, anxiety, stress, headaches, tension, sciatica, and many more. Furthermore, mud therapy clears away bad toxins and blocks tense pathways around the brain, thus helping with stress management. Nimba Nature Cure provides a variety of stress management therapies, including mud therapy, raga therapy, Shirodhara therapy, and acupuncture.
Nimba Nature Cure is a well-known yoga and wellness retreat center. We offer different kinds of naturopathy and Ayurveda therapies as well. Our specialists are well experienced and knowledgeable in this field. If you want to have a relaxation session and want to get rid of stress and anxiety, then you must visit Nimba. We would love to help you learn how nature can heal your difficulties and problems.