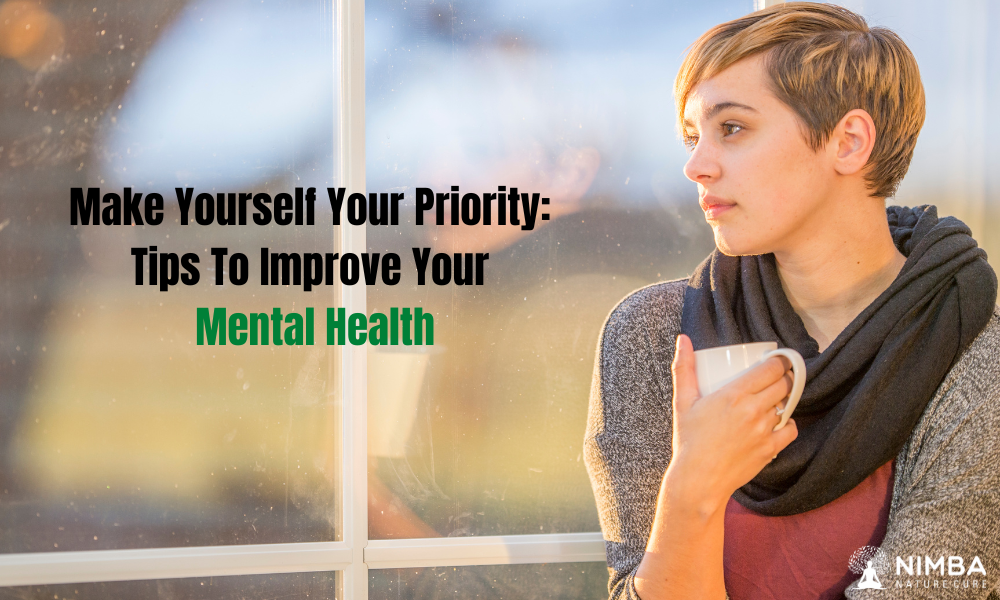 Make Yourself Your Priority: Tips To Improve Your Mental Health
By: Nimba - January 5, 2023
Many of us have experienced rapid changes and uncertainty in our lives due to covid-19 pandemic and lockdown. Furthermore, people are stressed because of their daily life struggles and pressures. Emotions refer to the feelings, responses, and thoughts that are a major sign of a living soul, reactive body, and thinking mind. Therefore, it becomes essential for us to balance our emotional state to enhance our daily living and well-being. There are numerous ways through which you can promote your mental health without getting disturbed by external factors. Ayurveda, Yoga, and naturopathy is the best way to improve your mental health along with improving physical well-being. You can visit Nimba Nature Cure and can try out our naturopathy for stress management as well as yoga and meditation at our wellness retreat in India. Let's look at some ways and methods that you can start doing right away today at your home to improve your mental and physical health.
Yoga
Yoga is known as the powerful combination of physical movement combined with deep breathing, meditation, and mindfulness that helps people maintain their physical and mental health. It has also been believed that yoga slows the natural aging process as there is less brain shrinkage. You can visit Nimba Nature Cure today to learn various asanas (Yogic posture).
Pranayam is a kind of yoga posture or practice of controlling breathing to remove toxins from the body.
Chanting is a kind of yoga practice that helps in increasing positive energy along with cleansing the soul, body, and mind.
You can also try Trataka yogic posture at Nimba as we have experienced yoga teachers and naturopathy specialists in Ahmedabad.
Yogic mudra is also beneficial in improving mental health as it relieves depression and pain.
If you are looking for the best wellness retreat in India, then must visit Nimba Nature Cure Village as we have great expertise in this field.
Read also: How To Keep Your Heart Healthy With Interesting 16 Yoga Poses
Cuddle Therapy
When you cuddle, hug, touch, or hold the hand of someone, your body releases some hormones i.e., oxytocin, dopamine, and serotonin and it makes you feel good. Once the hormones are released we experience feelings of happiness, good mood, lower depression, and relaxation. Therefore, you must often hug somebody who makes you feel happy and it also fulfills the needs of humans like love, acceptance, approval, warmth, and appreciation. This is a safe kind of therapy and can be used to improve one's mental health and especially support our inner needs, cravings, and basic human touch. You can try this with your partner, pet, child, or even with your favorite cuddle toy.
Pranic healing salt bath
Taking a salt bath can be beneficial for your health as it inspires wellness and self-care while also calming the mind, eliminating pathogens, and easing muscle aches all in one sitting only. It is also advised that you take bath salt on a daily basis and this cleanses the aura of negative elementals from your body and soul as well. This wellness healing practice makes you feel emotionally lighter and therapeutically washes you as well. Moreover, this is also known as a fantastic prerequisite of spiritual practices. Get in touch with the Nimba Nature Cure, to get the best Ayurveda and naturopathy services in India.
Guided Meditations
Meditation has been practiced for thousands of years and this was meant to help deepen understanding of the mystical and sacred forces of life. Nowadays, meditation is also getting used to treat stress, depression, and anxiety levels of people. Therefore, this is known as a type of mind-body complementary medicine as one can reach a state of inner calm and awareness with the help of meditation. Meditation is something that offers a sense of calm, balance, and peace that further benefits both emotional and physical well-being. Meditation also offers new perspectives on stressful situations as well as builds skills within you to manage your stress effectively. If you are looking to learn effective meditation techniques, then don't look further and connect with Nimba Nature Cure today. Nimba has various naturopathy treatments. Meditation techniques and Ayurveda for stress relief to offer.
Crystal healing
Crystal therapy has also been used for centuries as it effectively helps in treating the various ailments of the body holistically. These days various celebrities and famous faces are using this therapy and promoting the benefits of crystal therapy. It is believed that individual stones used in crystal therapy such as rose quartz, jade, and amethyst can communicate with the energy flow of the human mind and body. Furthermore, it also helps in realigning the energy channels that are affecting the natural energy flow of the body and mind. This therapy is beneficial for human beings as it helps in curing some ailments such as depression, anxiety, and insomnia as well as physical ailments such as digestive or problems. Crystal therapy is as simple as wearing precious stones, minerals, and bracelets or placing a stone in the room where you work or sleep. Crystal therapists identify which stone would work the best for you to stimulate the seven chakras or energy points around your body. Rose Quartz Crystal is mainly known to radiate loving energy and works on the physical and emotional levels of the body. Therefore, this is majorly used for relieving anxiety, depression, and stress level and is suggested by experienced mentalists and physiologists.
Read also: Natural Secret to Get Better Sleep
Healing Affirmation
Affirmation is nothing but a kind of secret manifestation where individuals affirm with a clear and calm mind and call out all the energy of the universe to manifest anything they want. Affirmation healing is also beneficial for the human body as it calms the mind, body, and soul as well. If you are looking for the best Ayurveda or naturopathy treatment service in India, then must connect with Nimba Nature Cure Village today. You must affirm so that you can relax and can improve your emotional health and well-being. You must not involve any kind of unhappiness, tension, or guilt while manifesting to avoid negative elements.
Read also: 8 Best Wellness Retreats In India To Heal And Re-Discover Yourself
Gratitude
Gratitude can be the best feeling to feel positive and grateful toward someone. It doesn't only make others happy but you as well. If you are stressed or feeling depressed, make sure you talk to somebody whom you trust the most or to whom you are comfortable. This will help you feel relaxed and free along with improving your mental health at the most. You can even create a culture or ritual of gratitude on your own such as morning prayers of gratitude and so on. This will help you feel energetic and positive throughout the whole day. At Nimba Nature Cure, the day starts with the gratitude prayer early in the morning with the sunrise. Visit Nimba Nature Cure Village, one of India's best wellness and natural healing centers.
We at Nimba Nature Cure Village work on achieving comprehensive health and inner growth. Every individual needs to invest a substantial amount of time and effort into learning how to enhance their health and recover from the decade's emerging health concerns.