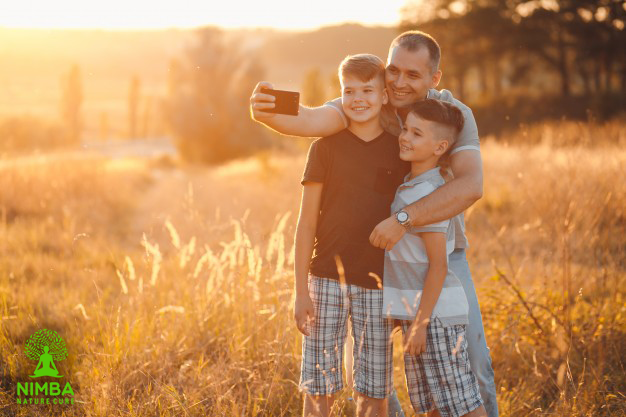 Family Wellness Retreats – Your Pursuit of Happiness
When you look back at your childhood, the memories of your family doing dishes together won't cross your mind but the elephant that chased your car down town during that family trip to some hill station, will. Life is made of such countless 'mundane' activities; sadly our mind is not capable of registering all of it. The wear and tear through life tend to un-recognize the recurrence of it all, and therefore, the few, chosen, unique, tender, memories stay with us forever. Also, our mind tends to register better the memories with myriad emotions involved – the elephant scene could be a 'horror' at the moment, but you only look back to 'crack up' on it.
That being said, family trips are sensitive getaways, it is an indulgence of mind and body of a bunch of similar vibrant soul that resonate the energy in matched frequencies while having a nice time close to nature, and Family wellness program is just a medium to attain all of that.
Why Bend to this Trend?
Holidays are meant to recharge and relax us and regular holidays only serve as a partial mental peace by keeping us away from all the worries of our domestics. That way regular holiday undermine the fundamental business of healing us. Family wellness retreats are meaningful getaways because it focuses on physical healing and keeping a balance between the mind to body sync through meditation, yoga, counselling, and precisely, an overall spiritual healing.
Furthermore, it is not a good idea to leave your kids orphaned, and at the responsibility of a kids club at a hotel so that you could grab a moment of peace. The best way to enjoy a good trip is to go for a family retreat where the whole family could enjoy the various opportunities that the whole Family Wellness Centres have to offer, in unison and not at the cost of each other.
Here are some more reasons why family wellness retreats in India should be more pursued.
1. Family Wellness Retreats are Impactful and Beneficial for the Whole
If you think you feel to talk certain things out, experiences you want to reflect, feelings you want some help figuring out, thoughts that are troubling, whole family wellness centres allows you to talk about all your worries by sensible counselling and rejuvenates you.
Those ways, wellness retreats in all its aspects, including location, accommodation, activities, exercises, facilities, professional consultation, and well, most importantly, Food, aligns you with whatever you seeking. Retreats are powerful workouts for your body, just extended through days. As opposed to regular counterparts of retreats, retreats are long-lasting.
2. Uncoil Yourself to Nature Amidst People like You
Whole Family wellness centres are located far away in the suburbs of the country, away from the common din, hustle and bustle, car honks and constant murmurs, small talkers and gossip mongers. Yes, you heard it right!
Wellness retreats in India are trending and rapidly evolving because we have so much noise in the city, and the disappointment of it increases manifold still the moment we find anyone with a big foul mouth, interfering with other people's lives, commenting and gossiping round the clock.
Wellness centres in India attract people who are looking to be treated in a way, wanting to achieve the same goals as you. You can make lasting friendships happen at these retreats because they hear you out and lets you believe you are not alone. Wellness centres in India are healing touch from nature that is unmatched by regular Holidays. While staying at proximity with nature reduces the production of stress hormones – Cortisol, the fresh, pollution-free air, serene environment, and wilderness rejuvenate you from within, thereby, preparing you for a fresh start at life. The idea should not just be to run away but to run away and heal and enlightened-Buddha style.
3. Itinerary?! What's that?
The service provider of the retreats manage all the resources and organizes all the things we usually worry about in the case of regular locations, like scheduling, commuting, reservations, waiting in long queues, etc.; giving your stress a break, especially in an unfamiliar location.
4. Let it out
Mental exercises, meditation, training, and counselling sessions by professionals help you peek into your ill habits, and find answers in your own shortcomings. These sessions are healing, rejuvenating and interesting to perform. There are Wellness centres in India that are focused on improving your well-being and the takeaways are a bunch of information and techniques that one can use to stay put together and in well shape even after the wellness retreat.
5. Cost-effective?! Why Not?
Well, retreats in India come in all sorts of packages; they could be economical as much as they could be exuberant. Regular vacations where you spend individually retreats come with packages that offer more facilities as compared to the normal packages the regular holidays offer. The fact that wellness retreats are pre-planned and include exciting offers and additional features are what makes it self-sufficient. Your single, reliable destination for all the fun.