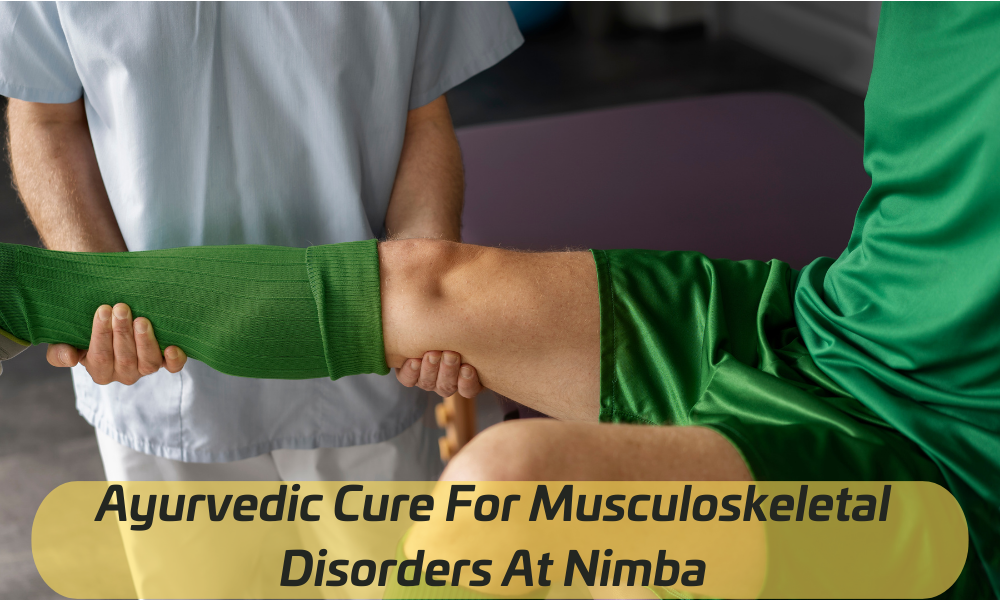 Ayurvedic Cure For Musculoskeletal Disorders At Nimba
By: Nimba - August 8, 2023
Pain is a prevalent issue, particularly among older adults, often stemming from conditions like musculoskeletal and neuropathic disorders, trauma, or surgical procedures. Additionally, psychological factors can contribute to pain experiences.
Musculoskeletal ailments encompass a range of conditions such as Rheumatoid Arthritis (RA), Ankylosing Spondylitis (AS), Cervical Spondylosis (CS), Osteoarthritis (OA), and Lower Back Pain (LBA). Lower Back Pain, also known as Katishoola, is characterized by discomfort in the lumbar region. This condition has various origins and affects diverse population groups.
Shodhala's description in Kayachikitsa Khanda Vataroga Adhikara offers a comprehensive insight into the samprapti (onset) and lakshana (symptoms) of Katishoola. Consequently, a range of disorders has become prevalent. Among these, Lower Backache stands out as a frequently encountered issue, often attributed to the prolonged poor sitting posture. Disturbed sleep patterns, along with stress, can also significantly contribute to the development of backaches. 
Ayurveda, drawing from its extensive traditions and remedies, presents a potential avenue for addressing such ailments. Experience optimal relief from Musculoskeletal Disorders at Nimba through the transformative power of Ayurveda. Discover a holistic approach that embraces traditional wisdom and modern expertise, providing personalized solutions for conditions like Rheumatoid Arthritis, Ankylosing Spondylitis, Cervical Spondylosis, Osteoarthritis, and Lower Back Pain.
Effectively manage Low Back Pain and various other Musculoskeletal
Abnormalities through a comprehensive Ayurveda regimen:
Ahara (Diet): Addressing the concept of "Ahara" or diet, the Shrimad Bhagavad Gita (Chapter 17, verses 8-10) classifies it into three types: Sattvika, Rajasika, and Tamsika. Presently, a significant number of individuals, particularly those engaged in active work, tend to consume a diet rich in spices, fried foods, tea, coffee, and processed items – characteristics of Rajasika Ahara. This dietary pattern for a prolonged period can lead to the imbalance of Vata dosha. The imbalance of Vata dosha can contribute to various distressing musculoskeletal ailments, including lower back pain. It is imperative, therefore, to adopt a balanced diet that encompasses essential elements like cereals, pulses, milk, fruits, and vegetables in appropriate proportions. Embark on a transformative journey of wellness at Nimba Nature Cure, your ultimate sanctuary for Ayurveda retreat in the heart of Gujarat, hence known as one of the best Ayurveda retreats in Gujarat. Discover a holistic haven that seamlessly combines traditional Ayurvedic wisdom with modern wellness practices. 
Vihara (Lifestyle): Embracing a balanced "Vihara" or lifestyle is of utmost importance. Maintaining a harmonious sleep-wake cycle and adhering to foundational principles are pivotal in ensuring our body's biological rhythm operates optimally. Yet, the demanding schedules of call centre workers, who remain mentally and physically active around the clock, disrupt this delicate balance. This disruption gives rise to both mental and physical strain, which ultimately materializes as muscle tension and bodily discomfort. Extended exposure to such a lifestyle can lead to the emergence of persistent and chronic pain. If left unaddressed, this condition renders the body more susceptible to heightened frailty and pain in later years. However, Ayurvedic doctors extend invaluable guidance and mentorship to realign and rectify imbalanced lifestyles. This facilitates the magnified benefits of Aushadhi Chikitsa (medicinal treatment), enriching the body's overall well-being. Are you also suffering from Musculoskeletal pain treatment? If yes, then don't waste money on treatments that may cause harm to you in later stages of life, instead choose Nimba for musculoskeletal disorders treatment through Ayurveda. 
Aushadhi Chikitsa (Medical Treatment)
Ashwagandha, revered as a tonic in Ayurvedic tradition, boasts a multifaceted profile – anti-stress, anti-arthritic, muscle relaxant, and adaptogenic. The therapeutic forms of Ashwagandha ranging from tablets to syrups, adapt to individual needs with a range of options. You can experience rejuvenation at its finest with Nimba Nature Cure. Your NABH-accredited haven for holistic wellness. Embrace nature-inspired healing for a healthier, happier you.
Bala, the heartening Sida cordifolia, emerges as a tonic, enacting as a muscle relaxant and nerve strengthener, lending respite from pain. Rasna, the revered Pluchia Lanceolata, takes centre stage as a heralded Vata shamaka, profoundly alleviating pain when administered as a decoction or Vasti, synergized with complementary remedies.
Eranda, derived from the venerable Ricinus communis, stands as a guardian against Vata imbalances, utilizing its root power and oil to soothe and diminish discomfort. Dashmula, the harmonious alliance of ten plant-based medicines, stands as a testament to age-old wisdom, a potent pain reliever treasured through generations.
Guggulu, a gift from Commiphora mukul, obtained from the resin of a select plant, emerges as a balm to pain and inflammation, gracefully nurturing the path to relief.
In the realm of Panchakarma, ancient therapies breathe new life into pain management:
Nadi Swedana and Sarvanga Swedana beckon with medicated vapours, tenderly easing stiffness and discomfort. Abhyangam, the artful massage, performed with medicated oils or ghee, crafts a sanctuary of muscle relaxation.
Kativasti, a specialized fermentation utilizing medicated oils, extends its hand of solace to those grappling with back stiffness, slipped discs, and muscle spasms.
Matravasti, a symphony of medicated oil and decoction, journeys through the rectal passage, offering respite to those challenged by lumbar canal stenosis and the vexations of sciatica syndrome.
Discover renewal and vitality at Nimba Nature Cure, the best naturopathy treatment centre in Gujarat. NABH accredited, our holistic haven offers transformative wellness through ancient wisdom and modern comfort. Embrace natural healing and embark on your journey to wellness today. Furthermore, Nimba offers the best musculoskeletal disorders treatment in Gujarat so do visit us once and get the best ayurveda services near Gujarat.