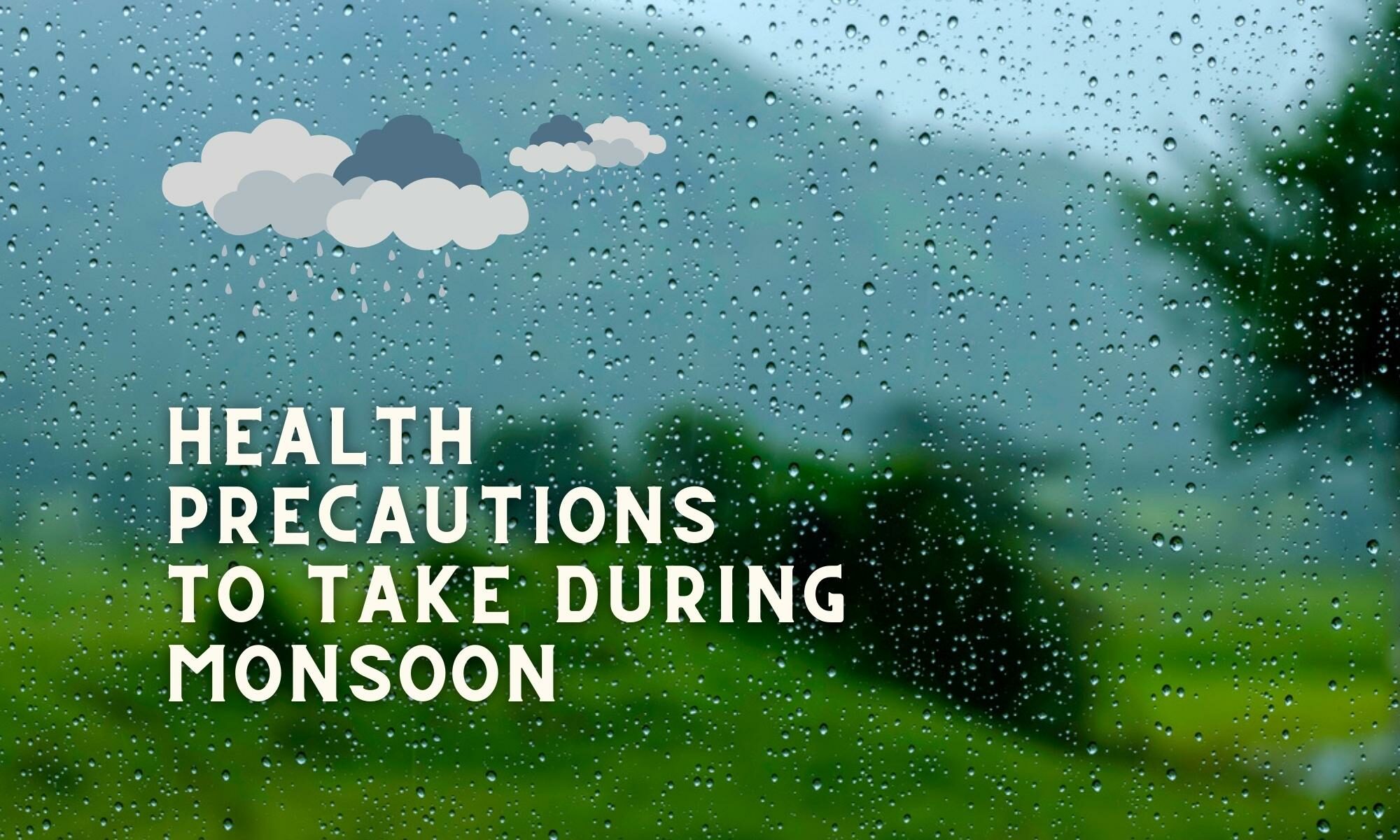 Health precautions to take during monsoon
By: Kishan - July 8, 2022
Monsoon season is liked by everyone as it brings rain with itself and offers a new life and relaxation from the heat and extreme humidity of summer. However, this season is not liked only by human beings but also by animals, plants, viruses, bacteria, and so on. Hence, it shows that we need to take care of our health too rather than just enjoying the rain. We need to protect ourselves from viruses and bacteria as they become too dangerous, especially in the rainy season. Moreover; the cold showers after the extreme heat are bliss for the people, plants, and even animals. At the same time, the rains and monsoon season are equally essential for the agriculture departments of India. No matter how much you enjoy the rain, it is always essential for you to know some facts about what to do and what not to do during the rainy season. Let's talk about some tips and tricks that can be useful for you and your family during the rainy season. What alternative medicine in India is available to take during this season will be identified in this blog.
Some things to follow during the monsoon are described below:
Drink clean water: Stomach infections and sickness during this season are quite normal, especially because of bacterial water as there are high chances of water resources being polluted. It becomes essential for every single person to have water purification at home so that they can have access to clean water. People must also consume detox water and must follow detoxification therapy so that the removal of toxins substances from the human body can be done.
Eat healthy foods: When you get sick, alternative medicine is not the only solution that can be taken as there are various healthy food options available to have during this season. Street and junk foods are usually spicy and even sometimes not made with proper hygiene which can lead to acidity, bloating stomach, and indigestion. Such wrong habits can also take you towards some dangerous diseases such as; cholera and typhoid.
Binge on immunity: Detoxification therapy thrice a week can even clean up the toxins that are present within the human body and can increase their immunity. Also, there are various alternative medicines and foods available for boosting immunity such as; apples, oranges, berries, dates, mosambi, etc. This will be the healthiest way to boost immunity naturally along with fighting the infection during such a season.
Increase pre-biotic intake: In the rainy season, you must intake enough quantity of prebiotic foods before buying expensive prebiotic supplements. Remember, many foods naturally contain them. These are the healthy microorganisms that help human beings in boosting their immunity and remain in the gut and digestive system. Make a habit of adding curds, homemade pickles, and buttermilk to at least one meal of the day.
Protect yourself from allergic disorders: People get severely sick in the monsoon season and if you know that your body reacts poorly to dust and changed weather then you must be aware of it and have to be extra alert. In the rainy season, you must have your prescribed medicine all the time especially when you are traveling, so that you can protect yourself from allergens. In addition, you must maintain a certain distance from sick people so that you don't get sick by respiratory particles.
Things to avoid during the rainy season are described below:
Consuming oily and fried foods: A tempting and hot plate of bhajiyas and pakoras with a cup of coffee or tea is a perfect combination when it is heavily raining outside, right? Indeed, it only invites acidity and gastronomically complications as well as bloating and upset of the stomach. Therefore; adopting detoxification therapy and healthy food options would be good for human beings to deal with the illness and sickness that is caused by the monsoon. Importantly, one doesn't feel thirsty during the rainy season as compared to summer and often skips drinking water which leads them to dehydration and this also affects their immunity system. Hence, people must develop the habit of drinking at least 11-15 cups per day.
Consuming pre-cut and peeled fruits: People have a habit of eating peeled and pre-cut fruits as they are too lazy to cut a new one for them, isn't it? If yes, then it is not a good way at all because fruits that are precut and kept in the open, invite germs and catch bacteria that cause severe health issues. Hence, it is better to avoid having pre-cut and peeled fruits as this will help them be healthy even in such stormy weather. In addition to that, it is best to avoid having seafood and fish during the monsoon.
Avoid taking unnecessary medicines: People enjoy rain a lot and also they get sick easily because the rainy season is not easily adaptable by everyone. Hence, they take medicines after getting sick, having fever and cold which is not good at all for their body. There are various alternative medicines in India such as; Ayurveda medicines to deal with cold and fever with the help of natural Ayurveda ingredients like Tulsi, Ginger, turmeric, cloves, black pepper, and many more. People must strictly avoid taking heavy medicines such as; Diclofenac, Dolo, and Ibuprofen to treat fever and cold unless it is not directed by the doctor. Detoxification therapy is also a type of alternative medicine that can be considered by people just to have a healthy lifestyle in stormy seasons and Nimba is the solution to those problems.
Avoid wearing wet shoes and clothes for a long period: The monsoon is a blissful and spirit-uplifting season almost for everyone, right? Indeed, but we can't ignore the fact that the majority of the people get sick in this season as they get wet in the rain or catch cold and fever easily. It is recommended to immediately change their clothes and shoes if they got wet in the rain and also completely dry themselves before wearing those clothes again.
FAQ's
How can you avoid diseases during rainy days?
The risk of exposure to diseases and infection is higher during the rainy season due to decreased immune system and increased air humidity. The air gets extremely humid which makes you sick and hence you need to take care of some things. Keep your hands clean and maintain an appropriate distance from people because flu viruses spread through contact and hand touch mainly. Drinking plenty of water and maintaining healthy eating habits also help in the prevention of diseases such as cold, fever, and sneezing. Take a lot of vitamin C and good protection against mosquitoes as rains result in high stagnant water that causes mosquito-borne diseases such as; Dengue, Chikungunya, and Malaria.
Do's and Don'ts during monsoon season?
Most of the diseases are caused by mosquitoes, especially in the rainy season and hence you must ensure that windows are properly closed along with ensuring mosquito-proof doors. Make the habit of avoiding junk foods especially uncovered items and pre-peeled fruits. Cold drinks are also not good for your health hence you should avoid drinking this too. Don't ignore any fever and immediately consult your doctor if you feel like sneezing and having a fever. Prefer taking warm water showers rather than taking cold water showers.
Detoxify yourself with Detoxification therapy at Nimba during this season
Learn how to keep yourself healthier in the rainy season with the help of Detoxification therapy at Nimba Nature Cure Village. Here you will learn about healthy lifestyle tips from specialists that you can follow in your daily life routine and this will change your way of living for sure. You will further also learn about some good food and drinking habits during the rainy season at Nimba Nature Cure Center that is essential for everyone to follow.